Although the entire world is falling apart, I decided to do an article about the dumbest of Bush's quotes.


"I'm telling you there's an enemy that would like to attack America, Americans, again. There just is. That's the reality of the world. And I wish him all the very best." --George W. Bush, Washington, D.C., Jan. 12, 2009






"I guess it's OK to call the secretary of education here 'buddy.' That means friend." --George W. Bush, Philadelphia, Jan. 8, 2009
"So I analyzed that and decided I didn't want to be the president during a depression greater than the Great Depression, or the beginning of a depression greater than the Great Depression." --George W. Bush, Washington D.C., Dec. 18, 2008
"I promise you I will listen to what has been said here, even though I wasn't here." --at the President's Economic Forum in Waco, Texas,
Aug. 13, 2002
"I am here to make an announcement that this Thursday, ticket counters and airplanes will fly out of Ronald Reagan Airport." --Washington, D.C., Oct. 3, 2001
"I couldn't imagine somebody like Osama bin Laden understanding the joy of Hanukkah." --at a White House menorah lighting ceremony, Washington, D.C., Dec. 10, 2001

"You know, one of the hardest parts of my job is to connect Iraq to the war on terror." --interview with CBS News' Katie Couric, Sept. 6, 2006
"The same folks that are bombing innocent people in Iraq were the ones who attacked us in America on September the 11th." --
Washington, D.C., July 12, 2007
"Oh, no, we're not going to have any casualties." --discussing the Iraq war with Christian Coalition founder Pat Robertson in 2003, as quoted by Robertson
"I hear there's rumors on the Internets that we're going to have a draft." --presidential debate, St. Louis, Mo., Oct. 8, 2004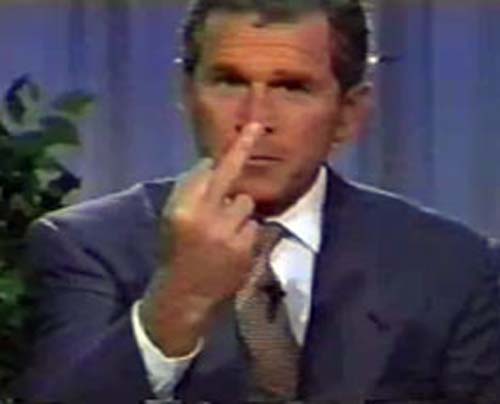 "I know how hard it is for you to put food on your family." --Greater Nashua, N.H., Chamber of Commerce, Jan. 27, 2000
"Do you have blacks, too?" --to Brazilian President Fernando Cardoso, Washington, D.C., Nov. 8, 2001

"I don't think anybody anticipated the breach of the levees." --on "Good Morning America," Sept. 1, 2005, six days after repeated warnings from experts about the scope of damage expected from Hurricane
Katrina
"I know the human being and fish can coexist peacefully." --Saginaw, Mich., Sept. 29, 2000

"I would say the best moment of all was when I caught a 7.5 pound largemouth bass in my lake." --on his best moment in office, interview with the German newspaper Bild am Sonntag, May 7, 2006
"They misunderestimated me." --Bentonville, Ark., Nov. 6, 2000

"For every fatal shooting, there were roughly three non-fatal shootings. And, folks, this is unacceptable in America. It's just unacceptable. And we're going to do something about it." --Philadelphia, Penn., May 14, 2001

"Families is where our nation finds hope, where wings take dream." --LaCrosse, Wis., Oct. 18, 2000

"See, in my line of work you got to keep repeating things over and over and over again for the truth to sink in, to kind of catapult the propaganda." --Greece, N.Y., May 24, 2005

"Goodbye from the world's biggest polluter." --in parting words to world leaders at his final G-8 Summit, punching the air and grinning widely as those present looked on in shock, Rusutsu, Japan, July 10, 2008

"The most important thing is for us to find Osama bin Laden. It is our number one priority and we will not rest until we find him." --Washington, D.C., Sept. 13, 2001

"I don't know where bin Laden is. I have no idea and really don't care. It's not that important. It's not our priority." --Washington, D.C., March 13, 2002

"Can we win? I don't think you can win it." --after being asked whether the war on terror was winnable, "Today" show interview, Aug. 30, 2004


"I trust God speaks through me. Without that, I couldn't do my job." --to a group of Amish he met with privately, July 9, 2004

"Major combat operations in Iraq have ended. In the battle of Iraq, the United States and our allies have prevailed." --speaking underneath a "Mission Accomplished" banner aboard the USS Abraham Lincoln, May 1, 2003

"I'll be long gone before some smart person ever figures out what happened inside this Oval Office." --Washington, D.C., May 12, 2008

"Rarely is the questioned asked: Is our children learning?" --Florence, South Carolina, Jan. 11, 2000

"If this were a dictatorship, it'd be a heck of a lot easier, just so long as I'm the dictator." --Washington, D.C., Dec. 19, 2000

"There's an old saying in Tennessee -- I know it's in Texas, probably in Tennessee -- that says, fool me once, shame on --shame on you. Fool me -- you can't get fooled again." --Nashville, Tenn., Sept. 17, 2002

"Too many good docs are getting out of the business. Too many OB-GYNs aren't able to practice their love with women all across this country." --Poplar Bluff, Mo., Sept. 6, 2004

"Our enemies are innovative and resourceful, and so are we. They never stop thinking about new ways to harm our country and our people, and neither do we." --Washington, D.C., Aug. 5, 2004

"You work three jobs? ... Uniquely American, isn't it? I mean, that is fantastic that you're doing that." --to a divorced mother of three, Omaha, Nebraska, Feb. 4, 2005

Thanks for reading and please subscribe.